Golf Utilitario 4×4 Carryall 1500 with IntelliTach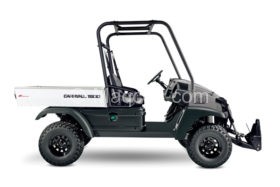 This is the machine that revolutionized the utility vehicle market: the rugged Carryall 1500 combined with our innovative hydraulic quick-attachment system and six task-oriented implements. The result: the most versatile utility vehicle available anywhere.
The exclusive IntelliTach quick-change attachment system comes standard with a loader bucket attachment. You'll eliminate the need for multiple vehicles – and save time and money – by equipping your Carryall 1500 for additional jobs with optional implements such as the plow blade, broom, pallet forks and mower.