Autocopler para martillos hidráulicos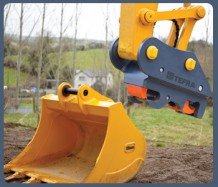 The dual safety features of TEFRA are unique within the attachment industry.
Primary Locking System
The primary safety system consists of a uniquely designed set of hooks powered by a single cylinder and high specification hydraulic controls that lock the attachment securely into place.
The intrinsic feature of the hooks is their shape. They are individually designed to tightly hold their respective pins against the body of the Coupler. This secure and failsafe retention means the attachment stays in place in all orientations and operating conditions.
Secondary Locking System
Our Active Protection System (the APS) consists of 2 separate powerful springs that apply pressure to the hooks to ensure attachment retention at all times.
A single leaf spring applies constant pressure to the front hook. This compact and durable spring ensures the hook stays in place at all times. A coil spring serves exactly the same role in relation to the rear hook. Both springs are individually rated far in excess of any strength and safety requirements, yet they remain as light as possible in order to satisfy constant drive to create strength without weight across all product ranges.